What's a Penthouse, Should you buy One In Kampala Uganda
A Guide to Penthouses:

Written by Musbon Real Estate
A penthouse is a type of luxury real urban estate notable for its grand views, quality amenities, and air of exclusivity.
What Is a Penthouse?
A penthouse is a spacious and well-appointed apartment, traditionally located on the top floor of an apartment building, condominium, or hotel. Today, realtors use the term to refer to any unit with a significantly more spacious and deluxe floor plan than the other units—qualities that make them the most expensive.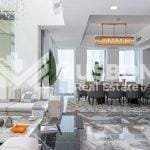 5 Common Characteristics of Penthouses
There are a few common characteristics that define contemporary penthouses:
1. High ceilings: A defining feature of a penthouse unit is its high ceilings and large ceiling windows that allow light to flood in and create the illusion of more space.
2. Outdoor access: Historically, luxury penthouses are setback from the outer walls and the rest of the building, creating penthouse access to an outdoor terrace where residents can entertain guests, meditate, or enjoy a meal.
3. Premium finishes: Since penthouses are luxury units, they are usually fitted with premium appliances, hardware, and other finishes that elevate the space.
4. Premium views: The single-most defining feature of a penthouse is its access to the best views. Although the luxury apartments are usually located on the top floor, for this reason, a penthouse may be located on a lower floor where it might have access to better, unobstructed views.
5. Square-footage: In addition to good views, penthouses are sought after for their roomy floor plans, though some penthouses in New York can run as small as 500 square feet.
3 Advantages of Penthouse Living
Living in a top-floor penthouse has many perks, including:
1. Memorable views: Real estate agents often emphasize that penthouse dwellings have some of the best views in the city, which residents can appreciate throughout the living space with its floor-to-ceiling windows.
2. Outdoor space: In urban areas where outdoor space is premium, having access to an exclusive terrace can be priceless for residents in densely populated cities.
3. Privacy: Penthouses offer their residents greater privacy as their large size means fewer units on the floor and usually no one living above them. These premium dwellings are frequently directly accessible by a private entrance.
3 Disadvantages of Penthouse Living
These luxury living spaces aren't without a few drawbacks, however, such as:
1. Higher price: While living in a top-floor apartment comes with many perks, these top-of-the-line features come with a high price tag.
2. Long elevator rides: Nice views come at the cost of longer-than-usual elevator rides or countless flights of stairs to climb, which can be inconvenient if you're in a rush or need to make multiple trips to your car.
3. Outdoor space: While a terrace provides residents with a place to relax or entertain, it does mean that residents have to pay additional costs for maintaining the landscaping.
Penthouse for sale in Nakasero
What Are the Differences Between a Penthouse and an Apartment?
Penthouses' premium size, views, and exclusivity distinguish them from apartments. There are usually only a few penthouse units, at most, in an apartment building that might have a large number of apartments of varying sizes—from a studio to a multi-bedroom dwelling. Penthouses are distinguished by their nice views, ample square footage, high ceilings, and premium amenities.
Boniface M.
Boniface M is a property expert, that helps you get closer to finding your dream home by simplifying and demystifying the property business.